Poetry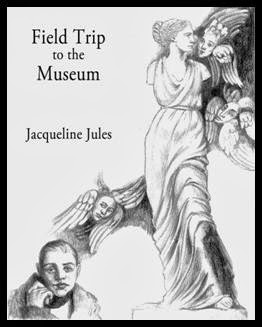 Field Trip To The Museum
is a thematic collection in the voice of an 18 year-old girl examining her life during weekly sessions with a psychologist. These 25 narrative poems tell the story of a young girl who travels away from self-destructive behavior to a new acceptance of herself. FIELD TRIP TO THE MUSEUM is published by
Finishing Line Press
.
To read some of the poems and download an order form, please visit
The Field Trip to the Museum blog
.
---
Jacqueline Jules is thrilled to have poems in The Poetry Friday Anthologies edited by Sylvia Vardell and Janet Wong. These anthologies offer a set of 36 poems for each grade level for every week of the school year. Drawing on decades of experience in classrooms all over the world as well as volumes of academic research and writing, these books present activities that are poem-specific, skill-based, and developmentally appropriate for each weekly poem—and that connect to the Common Core standards for poetry instruction. Over 75 poets are featured in these anthologies including Jane Yolen, Margarita Engle, Nikki Grimes, J. Patrick Lewis, X.J Kennedy, Rebecca Kai Dotlich, and Eileen Spinelli.

For more information, visit http://pomelobooks.com/.
---
Jacqueline Jules wins 2010 SCBWI Magazine Merit Honor Award for Poetry
Snowed in on Facebook -- written for my Facebook friends
Olympic Skater -- a celebration of the Winter Olympics
Enchanted by Books -- a poem about Harry Houdini
Here are links to some of my poetry published in online journals:
FOR YOUNGER READERS:
Tag Your Dreams, Volleyball, and Rebounding Luck
Young Adult Review Network, March 2011

Learning to Soar
Stories for Children Magazine, January 2010

Is There a Flag on The Moon
Stories for Children Magazine, April 2009

Where Do Bees Go In Winter
Stories for Children Magazine, March 2009

Super-Sized Tails


Stories for Children Magazine, May 2008




Where's the Wind


Stories for Children Magazine, April 2008



Ice Cream is Not for Babies
Stories for Children Magazine, November 2007


Double Meanings
Stories for Children Magazine, October 2007

FOR OLDER READERS:
---